Esta es una reconstrucción artística por el artista Terry Routledge del mascaron que el arqueólogo Richard Hansen excavó en los años ochenta en la Estructura 34 del complejo del Tigre de El Mirador. Desde entonces él lo ha presentado como el retrato de un supuesto gobernante que el llama Garra de Jaguar. Esto se publicó en la revista National Geographic en 1987, en su tesis doctoral de 1992 y en el libro "Mirador" de 2018 así como en conferencias académicas y públicas a través de los años (véase por ejemplo este video al minuto 30:32).
Aquí esta el panel informativo en frente a la estructura en el sitio:
Sin embargo esta interpretación tiene varios problemas.
1. Uno de ellos es que se basa en una reconstrucción poco ética del mascarón. Toda la parte superior del mismo, de la nariz hacia arriba es totalmente un invento de Terry Routledge, o quizás de Hansen ya que él debió haberlo aconsejado. Cuando Hansen escavó los mascarones de la Estructura 34 esta parte simplemente no estaba presente debido a la erosión. Esto se puede ver en fotos y dibujos. El mascaron oeste es el que está menos erosionado. El dibujo técnico, realizado en el momento de su descubrimiento, demuestra que se encontró faltante de la parte superior (la frente y parte de una orejera) El mascaron este es aún menos completo. Finalmente, ninguno de los dos mascarones de la estructura presentan ciertos rasgos que aparecen en el dibujo artístico.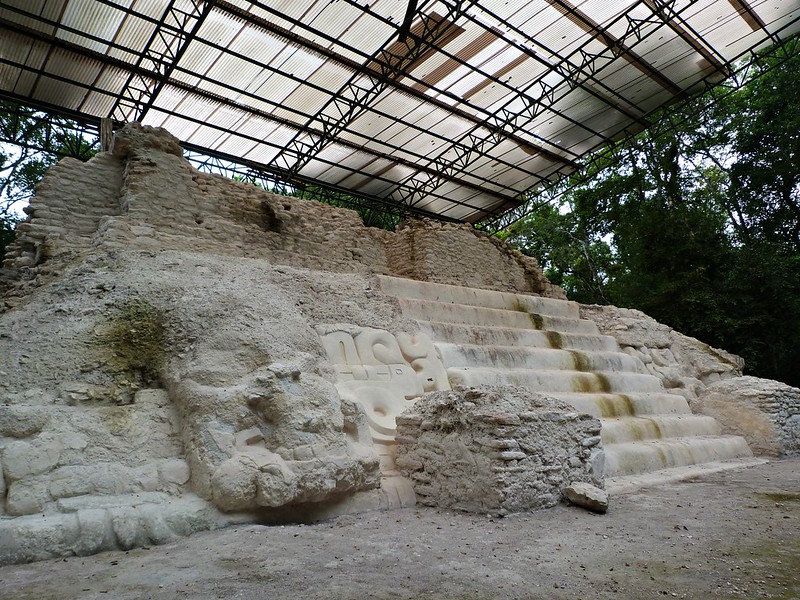 Aquí se puede hacer la comparación de lo que tuvo a la vista y lo que dibujó Terry Routledge. Estos son los dibujos que Hansen publicó en su tesis doctoral (Hansen 1992):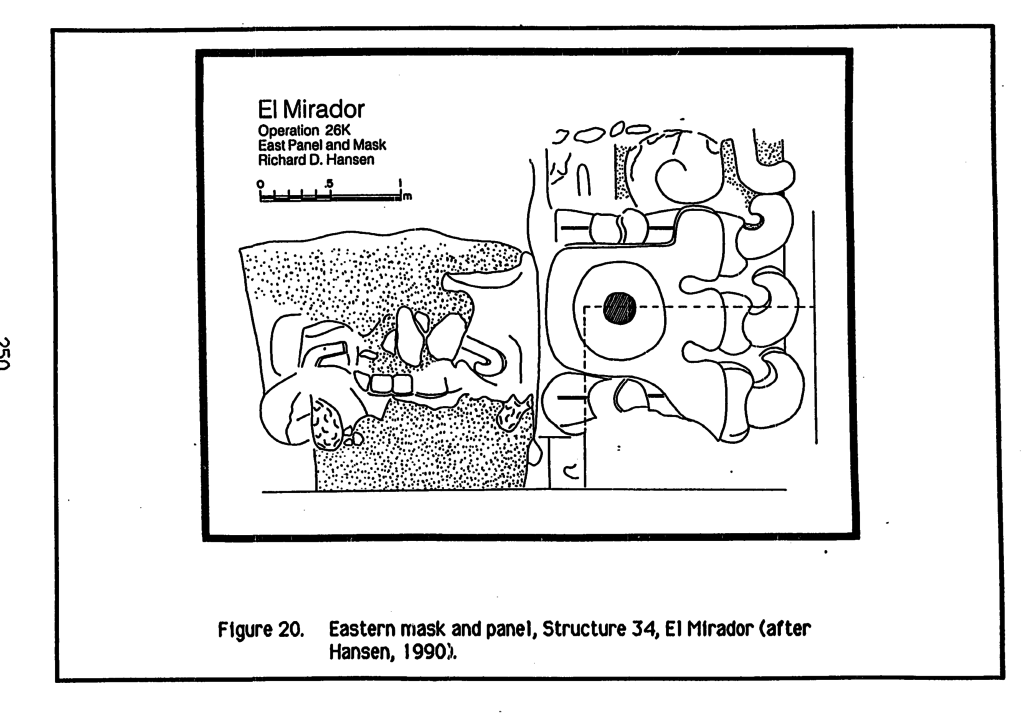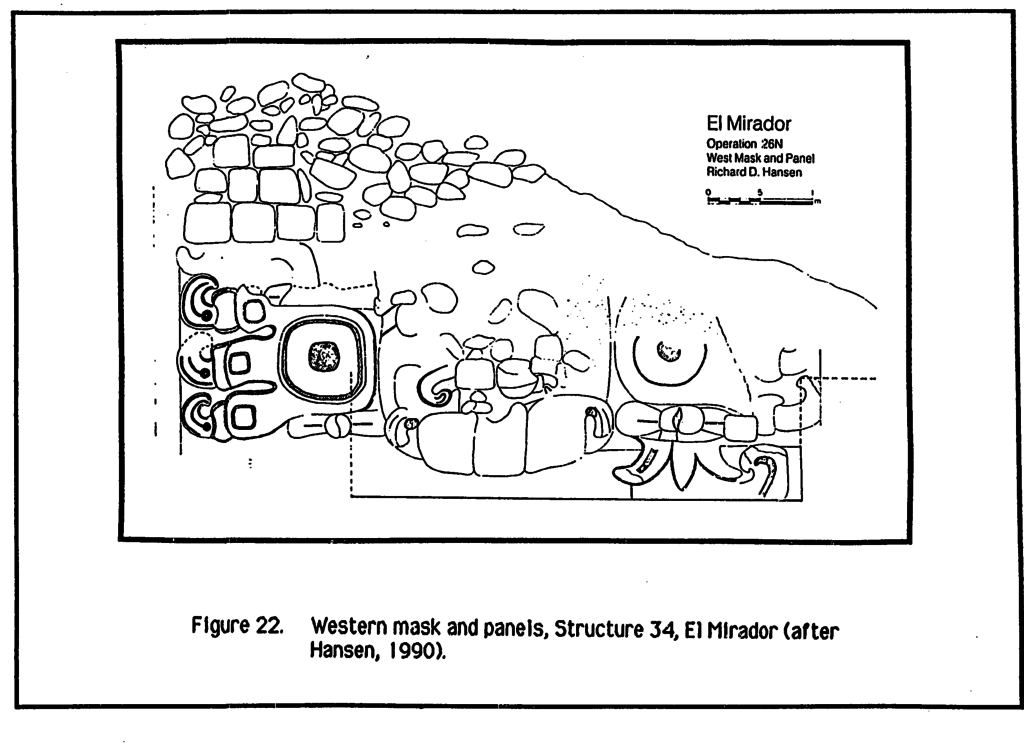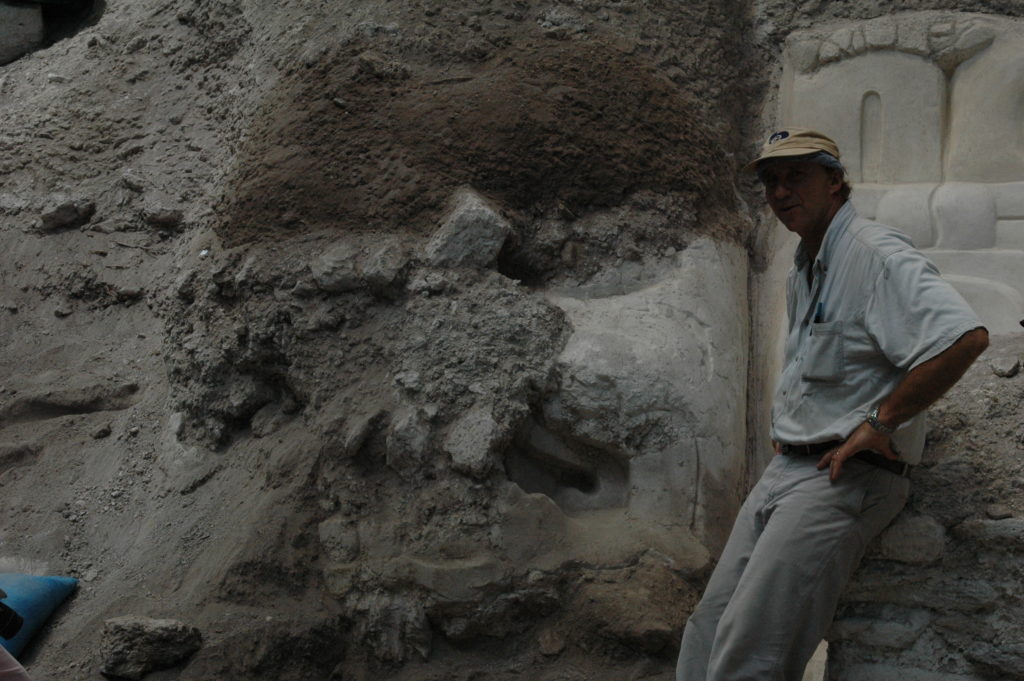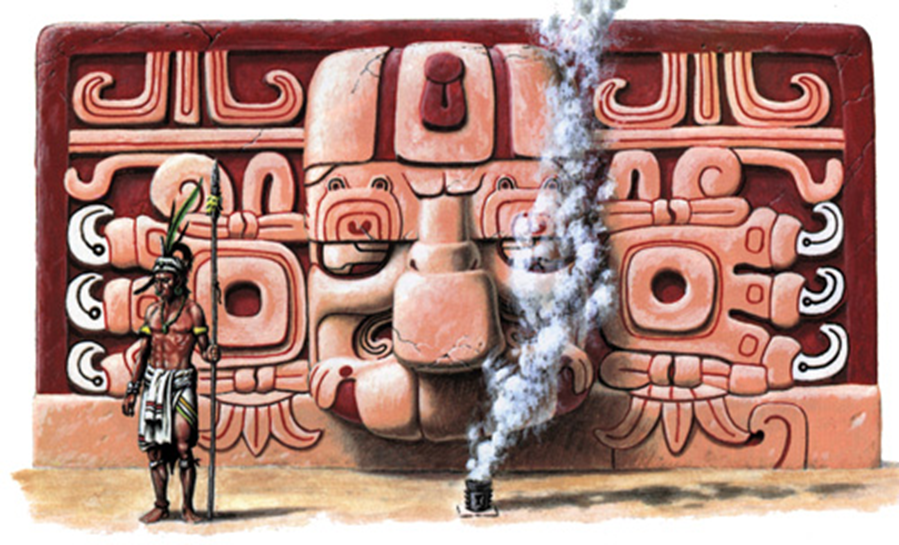 Es evidente que a parte de una "garra", una orejera y el mentón todo lo demás fue añadido por el autor del dibujo. Esto incluye los ojos, la nariz, las cejas y los elementos en forma de joya en la frente y de colmillos en la franja superior a cada lado de la cabeza.
Aparentemente, los elementos faltantes del mascaron de El Mirador fueron copiados de los mascarones de Cerros, mismos que son citados en la tesis doctoral de Richard Hansen (1992: Figuras 9 y 10) como ejemplares similares en el arte maya del preclasico. Esta es una foto tomada durante la excavación en los años setenta por el director de ese proyecto, David Freidel: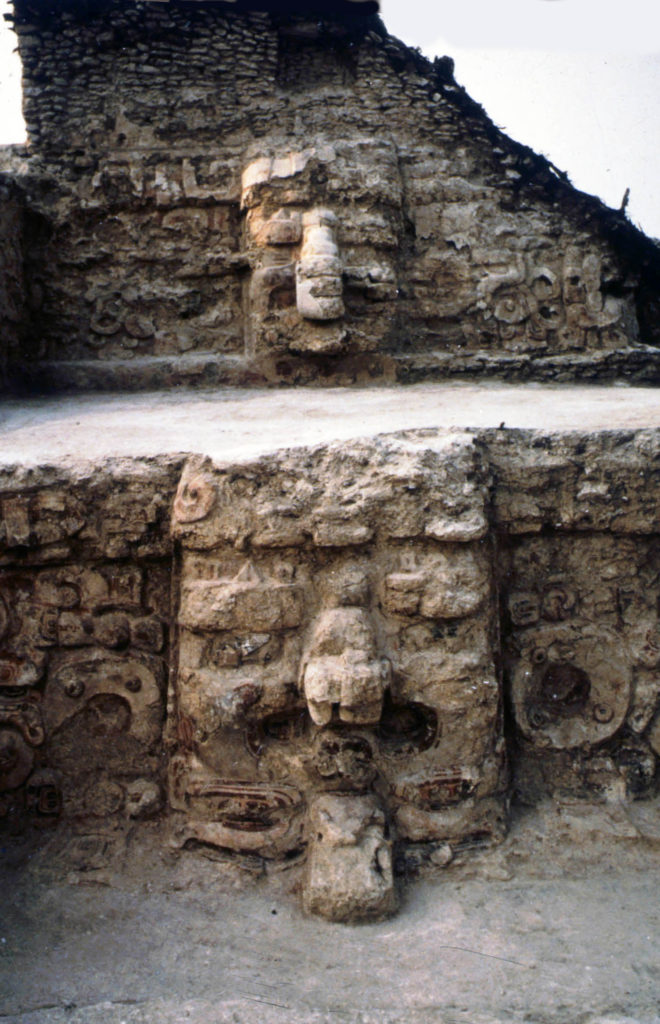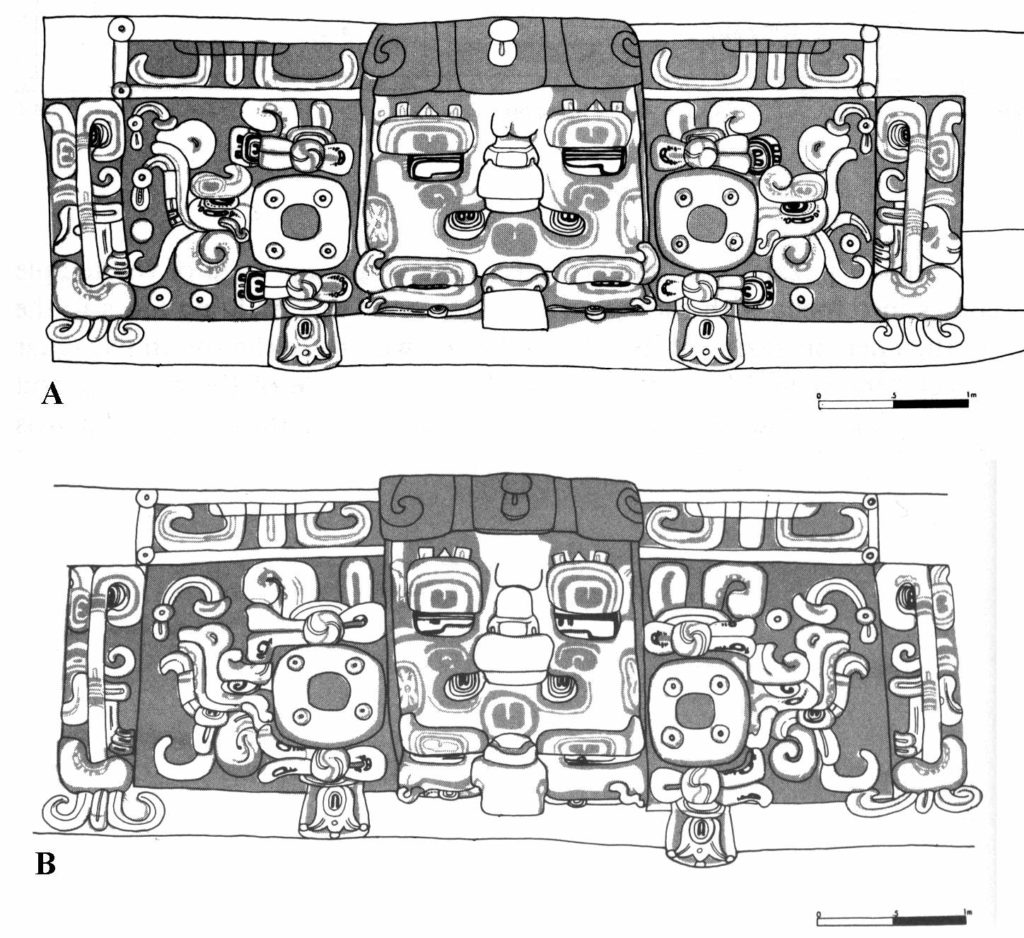 Se puede ver la semejanza entre los dibujos de los mascarones de Cerros (arriba). – que ya habían sido publicados en 1981 por Freidel- y la reconstrucción imaginaria de Terry Routledge del mascaron Estr. 34 de El Mirador.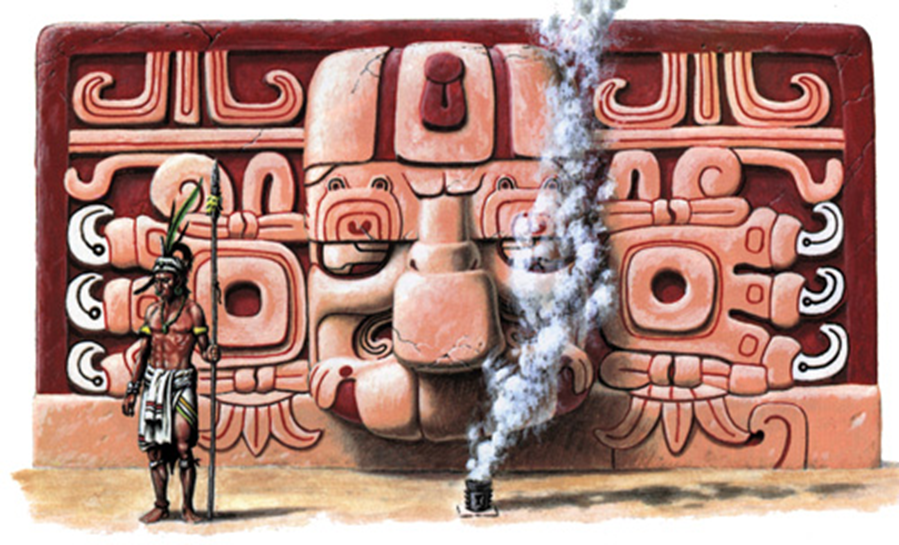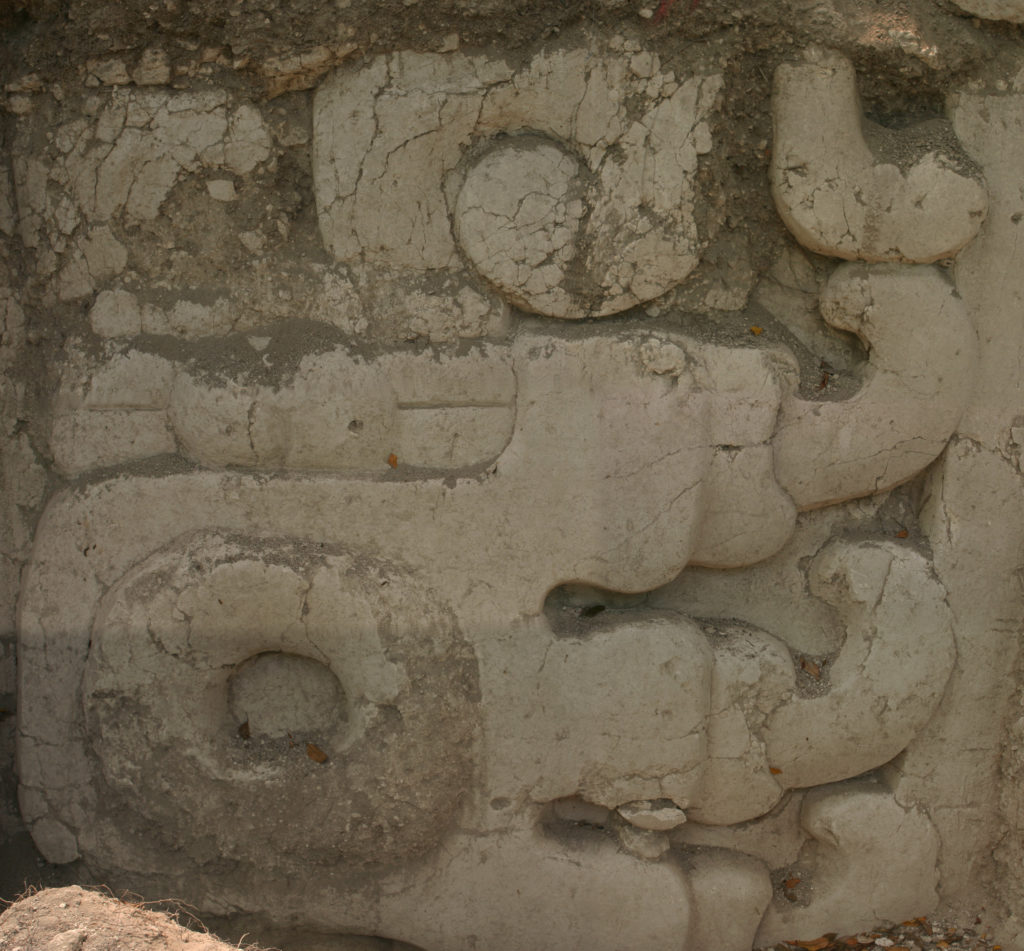 2. El segundo problema es que la interpretación del elemento mejor conservado de este mascarón de la Estructura 34 de Mirador, es decir la garra de jaguar, es incorrecta. Este elemento, que aparece debajo de una orejera, no se parece a las garras de un jaguar, por lo menos no a la representación de las mismas en el arte maya.
Hansen las llama "garras de jaguar de tres dígitos". Las aves de rapiña tiene tres dedos en frente y uno atras. Vean las aguilas arpías, por ejemplo. Los jaguares tiene los cuatro dedos a la par en un patrón redondo. Vean un ejemplo en la pagina del Smithsonian Institution

De hecho, no considerando este, no existe un solo ejemplar de mascarones mayas preclásicos representando rostros de jaguares con garras a la par de la cabeza. En el arte maya clásico existen representaciones de rostros de deidades que combinan rasgos de jaguar y humano pero estos se reconocen por orejas de jaguar y no garras a la par del rostro. En cambio, la mayoría de mascarones preclásicos manifiestan las características de aves y humanos. Y estas características incluyen un tocado en forma de cabeza de ave, plumas y garras. Así es el caso de los mascarones del Edificio D del Grupo II de Holmul que se reproduce en esta imagen: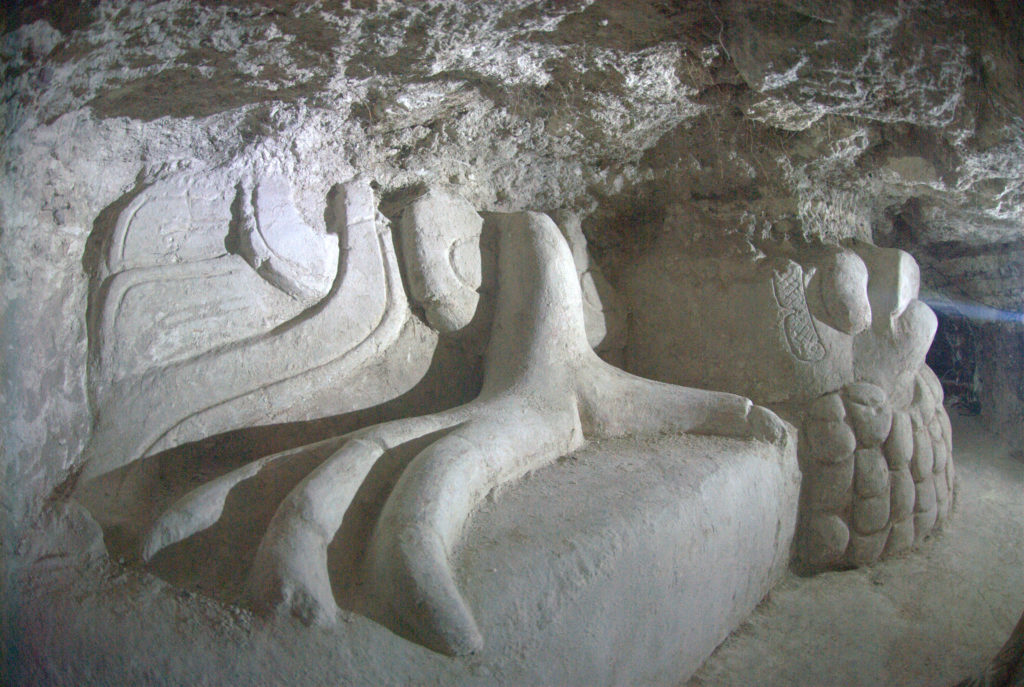 En este ejemplar, del cual, asi como en el de Mirador se conserva solo la parte inferior, se observa parte de un rostro humano con plumas de ave en el cuello así como largas plumas que sales debajo de la orerejera. De esta misma emergen los las garras de un ave que evidentemente desciende del cuerpo y cabeza del ave que formaban parte del tocado del individuo aquí representado. Estos elementos sugieren que esta imagen representa al dios solar K'inich en su manifestación humana vistiendo su tocado de ave, así como es común en muchas representaciones preclásicas y clásicas.
Otro ejemplo de la deidad solar en su manifestación de ave -el llamado Ave Primordial- se observa en el mural de San Bartolo que fecha en la misma época del Preclásico Tardío: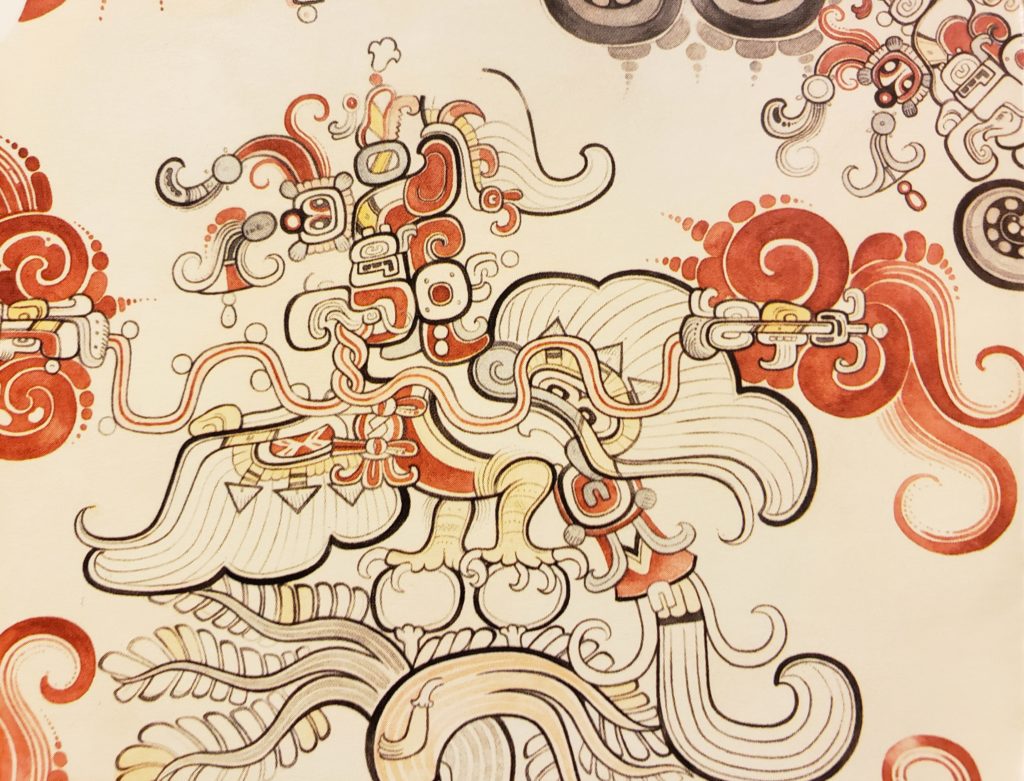 En esculturas de Kaminaljuyu de la misma época como esta, un gobernante viste el tocado de ave y una capa: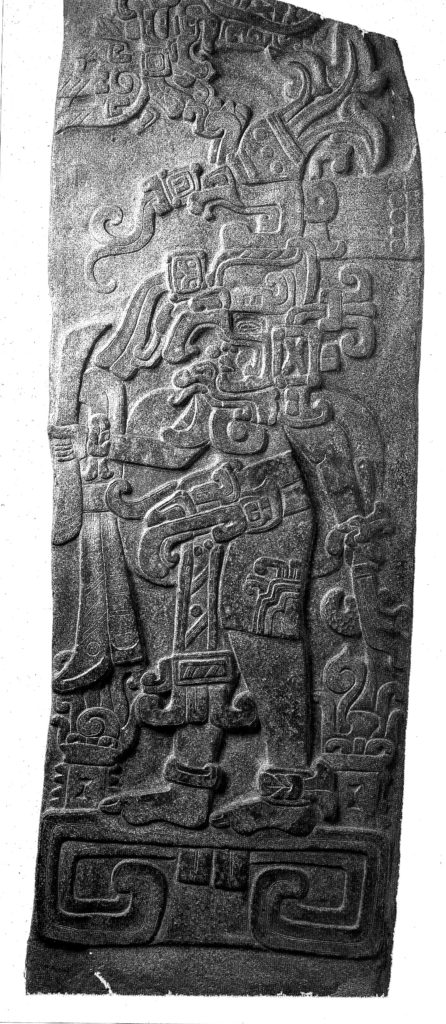 En la epoca Clasica los gobernante vestían el mismo tocado. En el Friso de Holmul, el gobernante de la ciudad, Tzhab Chan Yopaat esta retratado con un tocado de cabeza de ave y plumas de quetzal. El ave se identifica con el dios solar K'inich por sus ojos en forma de L recostada y por diminutas alas a la par del rostro en forma de cabezas de serpientes en perfil. El mismo motivo, simplificado en forma de colmillos de serpiente, ya se observa a la par de los rostros de los mascarones preclásicos de Cerros citados.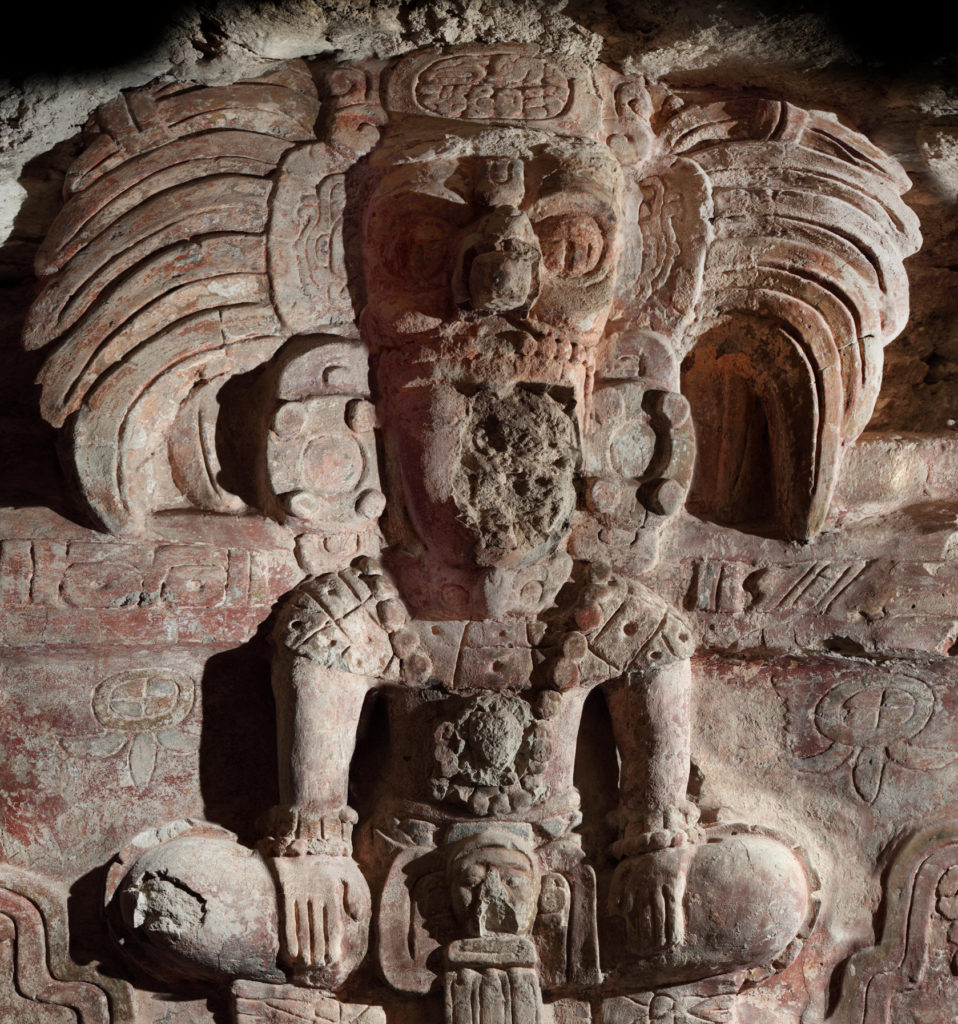 Desafortunadamente hasta la fecha la interpretación de Hansen del mascaron de El Mirador basada en una imagen copiada de otro monumento no ha sido detectada por otros investigadores por razones que desconozco. Sin embargo, desde su primera publicación en 1987 se sabe que esos elementos de la frente y la nariz no formaban parte del mascaron del Mirador. Esto es lamentable porque estos datos han confundido aún más el dificultoso estudio del arte maya en sus épocas tempranas para las cuales disponemos de muy pocos ejemplares. Además, la imagen ya ha sido incorporada en folletos turísticos y, de colmo, hasta se erigió un monumento en la entrada de la ciudad de Santa Elena, Peten, basado en esta misma falsa reconstrucción.
Este monumento fue inaugurado en 2012 por el ex candidato presidencial Manuel Baldizón con el aparente propósito de usar esta imagen grandiosa para promover El Mirador como destino turístico.
Que lastima que este monumento represente algo que nunca existió.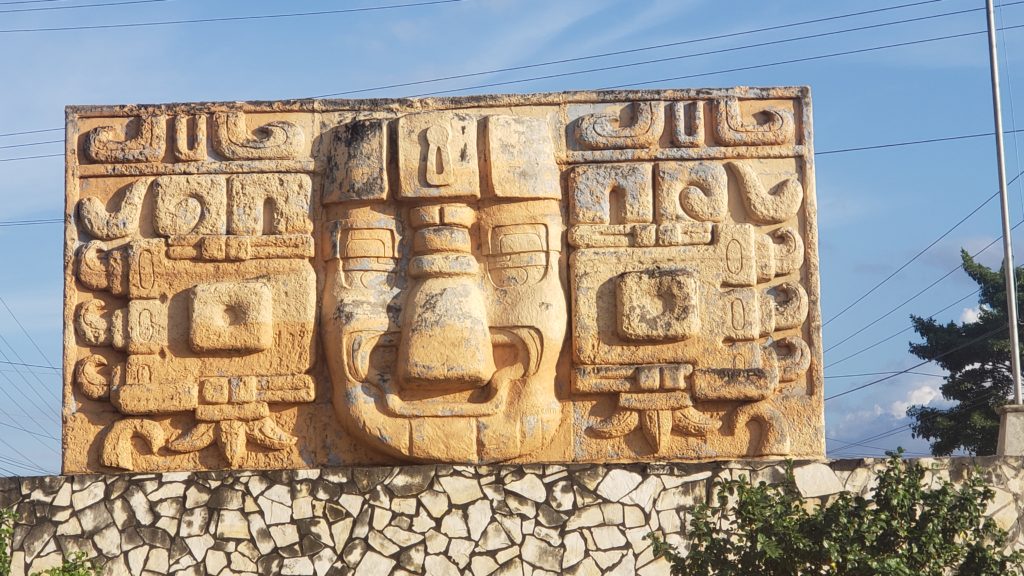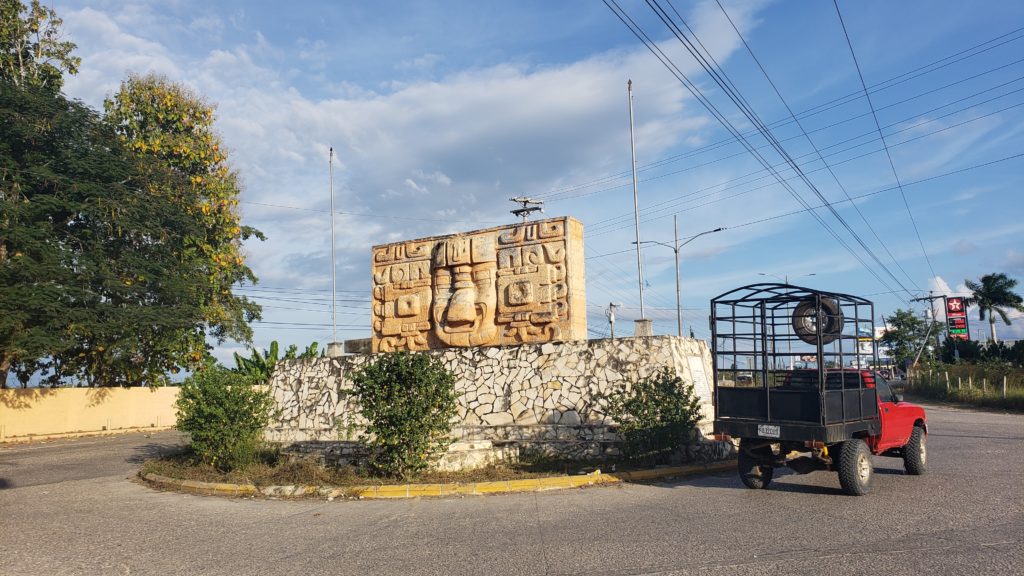 Bibliografia
Estrada-Belli, Francisco (2011) The First Maya Civilization. Routledge, London
Freidel, David and Robin Robertson (eds.) (1981) Archaeology at Cerros, Belize, Central America. Volume 1. Interim Report. SMU press.
Hansen, Richard D. (1992) The Archaeology of Ideology: A Study of Maya Preclassic Architectural Sculpture at Nakbe, Peten, Guatemala. PhD thesis. University of California, Los Angeles.
Hansen, Richard and Edgar Zuyuc (2018). Mirador: investigación y conservación en el antiguo Reino Kaan/Research and conservation in the ancient Kaan Kingdom. FARES, Guatemala City.
Schele, Linda and David Freidel (1990). A Forest of Kings. William Morrow and Co., New York
Taube, Karl, William Saturno, David Stuart and Heather Hurst (2010) The Murals of San Bartolo, El Peten, Guatemala. Part 2: The West Wall. Ancient America 10.