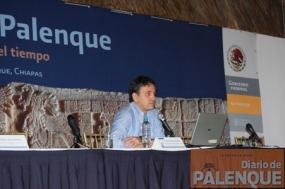 El Inicio de la cultura Maya no fue debido a influencia Olmeca dijo Estrada-Belli en la VII Mesa Redonda de Palenque este lunes pasado en la cual se reunieron 25 de los mas distinguidos arqueologos y otros investigadores de esta cultura.
Lea mas en el reporte del Diario de Palenque
The beginnings of Maya culture were not due to Olmec influence said Estrada-Belli on Monday at the VII Mesa Redonda de Palenque attended by 25 among the most distinguished scholars in archaeology and related fields.
Read more from the Diario de Palenque.